October is the perfect time to purchase a Kromski Spinning Wheel. Imagine having 2 pounds of FREE Polish Merino Wool and a Kromski exclusive Mug delivered with your new wheel!
With 7 different wheels to choose from, there's sure to be one that fits your style. Each wheel is available in Unfinished so that you can customize it to fit your personal taste and decor, or finished in Mahogany (with the exception of the Fantasia) Walnut or Clear.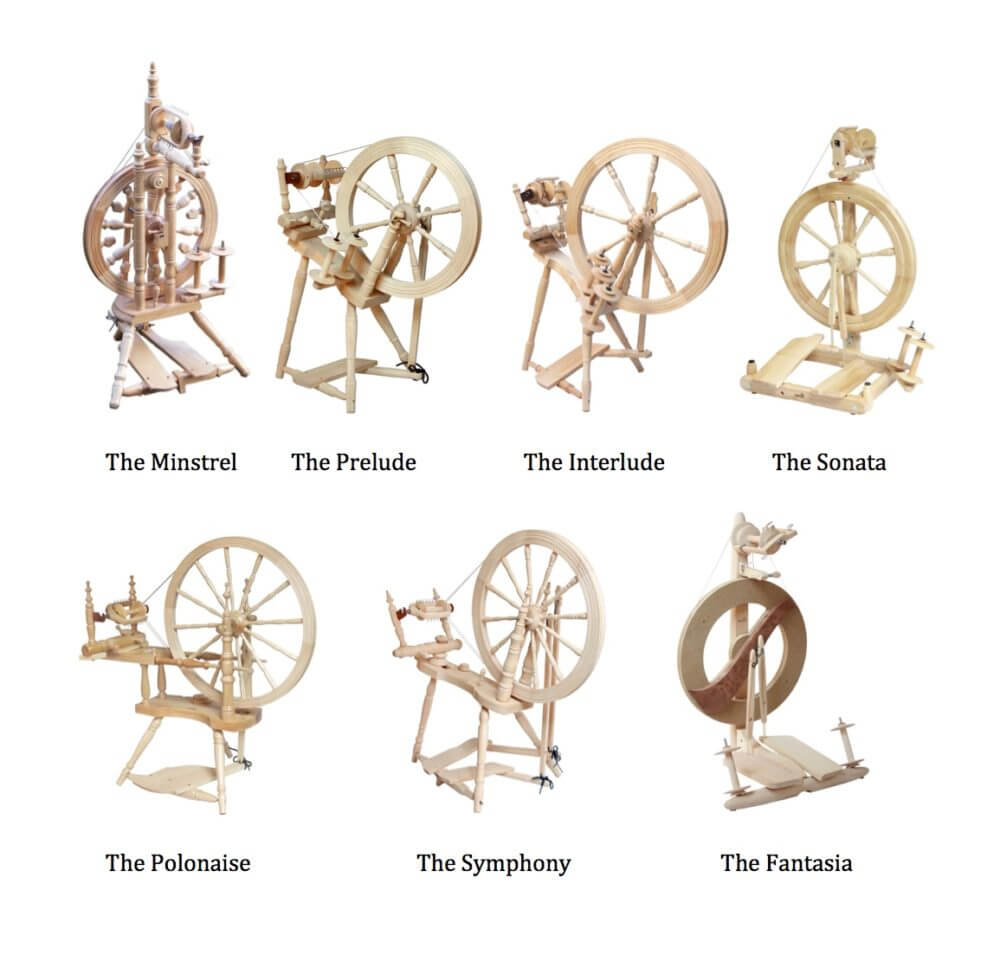 Starting at just $499 our Unfinished Fantasia has a cool modern vibe. The unique magnetic flyer attachment and decorative curved accent make this wheel a great choice for beginners and experienced spinners alike.
The Prelude (also starting at $499 unfinished) and it's slightly larger cousin, the Interlude offer a more traditional look that is ideal for those who may not have room for a larger wheel, yet love the fine detail of the Saxony style.
The Minstrel is a high castle wheel with a wonderful old world, traditional appearance and a compact design. It starts at $669. The Minstrel can be used in single or double drive with just a simple adjustment.
Space not an issue? Perhaps the elegant fairytale appearance of the larger Symphony or Polonaise is more your style. They each have the capability to spin in single or double drive. Either one of these wheels will make a dramatic impact in your home and of course, they both spin like a dream. You will truly feel like a fairytale prince or princess when you own one of these wheels. Starting at $759 for the Symphony and $839 for the Polonaise.
If you have ambitions of traveling with your wheel, either to classes, guild meetings or even camping trips, then take a closer look at the Sonata. At just $729 – $799 this folding wheel comes with it's own carry bag, making it the ideal choice for travel or storage solutions.
No matter which wheel you choose, you can be confident in the quality of the design and workmanship that Kromski brings to all it's products.
Order any of the above Kromski Spinning Wheels and you will also receive 2 pounds of Polish Merino to use as practice or for that special project you may have in mind. Kromski will select the colors at random from our 53 available colors. Also included is a Kromski mug. Filled with coffee, tea or hot chocolate, it's sure to bring your spinning adventure to a whole new level of cozy.
Contact your Kromski Dealer today to place your order before the offer expires on October 31st, 2019.