It's contest time at Kromski North America!
We have an amazing opportunity for you to WIN a new POLONAISE SPINNING WHEEL!
Here's how it works:
Order a set of Kromski Hand Carders during the month of July, and you will receive a FREE 6 oz Blending Pack of Polish Merino and a chance to WIN! Choose from any of our finishes; Clear, Walnut, Mahogany, or Unfinished. Our beautiful carders are available in your choice of 72 or 108 tpi.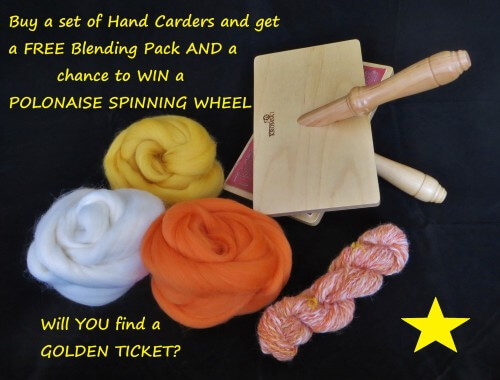 We have carefully packed 80 boxes with an even assortment of finishes and tpi. One out of every ten boxes contains Golden Ticket. If you are a lucky recipient of one of these 8 treasures, follow the enclosed instructions and return it to Kromski North America. You are guaranteed a prize! From those 8 tickets we will draw, at random, the Grand Prize Winner. That person will become the proud new owner of one of Kromski's most coveted wheels – The Polonaise!
You only have the month of July to enter and there are ONLY 80 chances to win, so hurry over to your Kromski dealer and order you Hand Carders today!
If you've never used Hand Carders before, you may want to take a look at our blog post "Create Custom Colors with Hand Carders" to see a quick tutorial and get a look at the colors we've come up with for the Blending Packs that will be included for this promotion.
GOOD LUCK!