Kromski is excited to introduce the new Weaver's Choice variable dent heddle, designed for the Harp Forte.
If you want to see the Weaver's Choice Heddle in action, check out this video – Kromski Weaver's Choice Heddle
In our last project, we show you how to make a vest using super chunky hand spun yarn. For this cowl, featured in the video clip above, the wool yarn we chose varies from light fingering to bulky (but not as heavy as our super chunky). There is even some sparkly yarn in this one!
The cowl was woven on a 16″ Harp Forte with an actual width in the heddle of 14″. The series of heddles were placed in a somewhat random fashion, using each size (12, 10, 8, and 5 dent) in various amounts to create noticeably different widths of color and yarn sizes.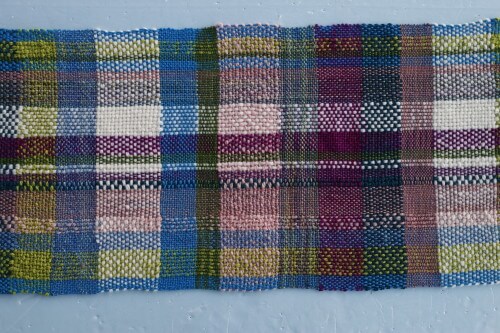 It was woven with the same yarns in the weft as were used in the warp, but not necessarily in the same order or stripe width. The finished length of the cloth was 30″ when it came off the loom.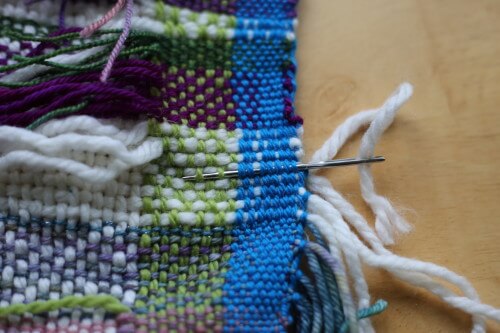 Before wet finishing it must be hemmed. Rather than doing a hem stitch with fringe or a bulky rolled hem, I finished it with a woven hem. This takes a bit of time, but the end result is well worth it. To create this type of hem, you will need to do a sewn hem stitch at the start and end of the woven piece while it is still on the loom. To weave in the fringe ends left from the sewn hem, you will again need a tapestry needle. Working with one warp end at a time, sew them back into the fabric, beginning with the second weft pick. The 1st weft thread will prevent it from "unweaving". Follow the same over/under pattern as was made by the weave. The trim off the excess ends. This will leave you with a nice clean edge.
Next wet finish by soaking in a lukewarm bath and dry flat.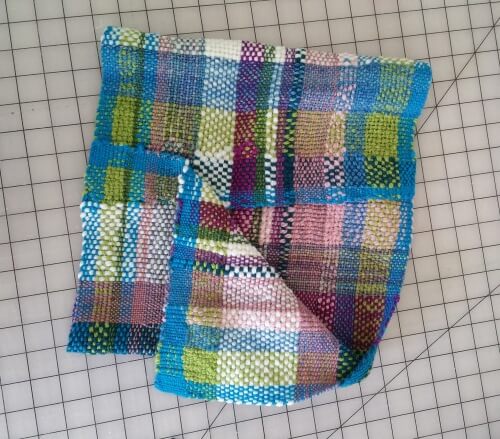 To complete the cowl, fold it over, allowing for a 2″ overlap.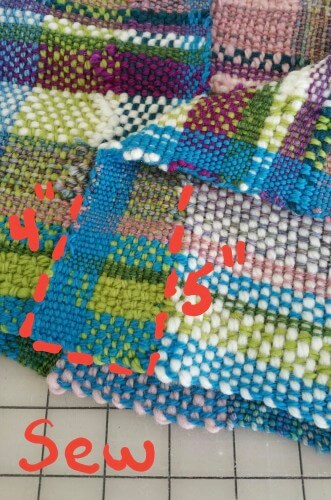 Stitch in place as shown above. You will sew 4″ on the outer edge and 5″ on the inner edge of the overlap. This will let the cowl lay nicely on the neck when worn.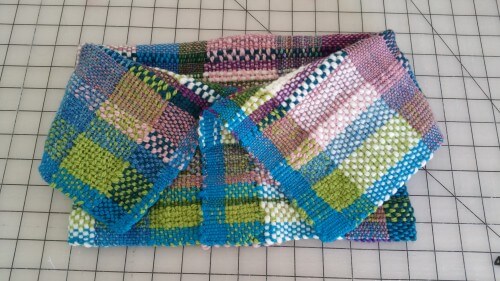 To wear, fold down the top half and slide it over your head.
This is a fun starter project to make using the new Weaver's Choice Heddle and a great way to use up all those odd bits of yarn!